VidMate is a powerful video-downloading application that has gained popularity among smartphone users. With its wide range of features and user-friendly interface, VidMate makes it convenient to download videos from various platforms. But what if you want to enjoy the benefits of VidMate on your PC? In this article, we will guide you through the process of downloading and installing VidMate for PC.
How to Download and Install VidMate for PC
To download and install VidMate for PC, you need to follow these steps:
Step 1: Download an Android emulator
Since VidMate is an Android application, you will need an Android emulator to run it on your PC. There are several reliable emulators available, such as BlueStacks, NoxPlayer, and MEmu. Choose the one that suits your requirements and download it from their official websites.
Step 2: Install the Android emulator
Once the emulator setup file is downloaded, run it and follow the on-screen instructions to install the emulator on your PC. The installation process may take a few minutes, so be patient.
Step 3: Download VidMate APK
After installing the Android emulator, you need to download the VidMate APK file. The APK file is the installation package for Android applications. Download the latest version of the VidMate APK file from our website: https://www.vidmateapp.io
Step 4: Install VidMate on the emulator
Once you have downloaded the VidMate APK file, navigate to the location where it is saved on your PC. Right-click on the APK file and select "Open with" from the context menu. Choose the installed Android emulator from the list of available options.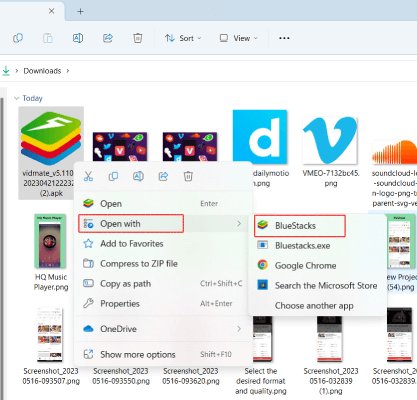 Or click on the "Install APK" button in BlueStacks from the right sidebar and select the APK file you just downloaded.
The emulator will automatically recognize the APK file and initiate the installation process. Once the installation is complete, you will find the VidMate app icon in the emulator's app drawer.
VidMate alternatives
While VidMate is a robust video-downloading application, there are other alternatives available for PC users who may have different preferences. Here are three popular alternatives:
Snaptube
Snaptube is a feature-rich video downloader that supports multiple platforms, including YouTube, Facebook, Instagram, and more. It offers a clean and intuitive interface, along with a wide range of download options and formats.
TubeMate
TubeMate is another powerful video downloader known for its simplicity and efficiency. It enables users to download videos from YouTube and other platforms in various resolutions and formats. TubeMate also offers a built-in media player for seamless playback.
4K Video Downloader
As the name suggests, 4K Video Downloader specializes in downloading high-quality videos, including 4K resolution. It supports a wide range of platforms and provides users with flexible download options and settings.
FAQs
Can I download VidMate for PC without an emulator?
No, VidMate is an Android application, so you need to use an Android emulator to run it on your PC.
Is VidMate safe to use on PC?
Yes, VidMate is generally considered safe to use. However, it's always recommended to download the application from trusted sources to ensure you're getting the legitimate and secure version.
Can I download videos from YouTube using VidMate?
Yes, VidMate supports downloading videos from YouTube, along with various other platforms such as Facebook, Instagram, Vimeo, and more.
Can I convert video formats with VidMate?
VidMate primarily focuses on video downloading rather than video conversion. However, there are dedicated video conversion tools available that can help you convert video formats if needed.
Is VidMate available for Mac?
Currently, VidMate is primarily designed for Android devices. However, you can use an Android emulator on your Mac to run VidMate and enjoy its features.
Conclusion
VidMate for PC is a convenient and efficient solution for downloading videos from various platforms. You can easily install VidMate on your PC using an Android emulator. Once installed, you can enjoy the benefits of high-quality video downloads, fast downloading speed, and a built-in media player.